Tortuguero is located in the North Caribbean, it is one of the most biodiverse rainforests in Costa Rica and it is considered one of the seven natural wonders of the country to visit.
The Tortuguero National Park consists of thousands of hectares of exuberant tropical vegetation, which offers visitors a number of water channels to navigate, being able to appreciate its natural beauty. Majestic and lush trees are home to different species of animals and plants such as the spider, capuchin, or howler monkeys, tropical birds such as toucans or green macaws, among many others.
Between July and September, a wonderful event occurs on the beach of Tortuguero every year: the spawning and birth of the Tortuga Verde, being Tortuguero the most important world site of this event. Thanks to the efforts of the Community of Tortuguero, the hotel sector and the management of the National Park, the number of specimens has grown considerably in recent years and it is about to leave the list of endangered species. Other species of turtles, such as the Leatherback and the Hawksbill also spawn on this beach, although in smaller numbers.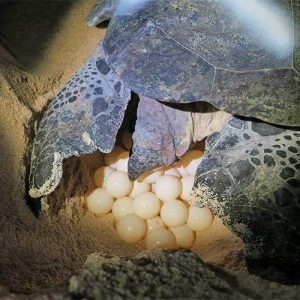 Green turtle nesting night tour